Have you noticed mold in your home or business? Are you experiencing sneezing, runny nose, irritated eyes or rashes indoors and suspect that mold might be the culprit?
Alpine Group is dedicated to creating a safe and healthy indoor environment for our neighbors and local businesses in the greater Indianapolis, Carmel, Fishers & Noblesville area. Knowing the health problems that molds can cause or exacerbate, our mold remediation division helps identify and wipe out mold problems in homes, apartments, offices and any other residential or commercial building.
Why is mold growing in my home?
Molds are part of the natural environment. Outdoors, molds play a part in nature by breaking down dead organic matter such as fallen leaves and dead trees, but indoors, mold growth should be avoided. Molds reproduce by means of tiny spores; the spores are invisible to the naked eye and float through outdoor and indoor air. Mold may begin growing indoors when mold spores land on surfaces that are wet. There are many types of mold, and none of them will grow without water or moisture.
Can mold cause health problems?
Molds are usually not a problem indoors, unless mold spores land on a wet or damp spot and begin growing. Molds have the potential to cause health problems. Molds produce allergens, irritants, and in some cases, potentially toxic substances. Allergic reactions to mold are common and include hay fever-type symptoms, such as sneezing, runny nose, red eyes, and skin rash. Molds can also cause asthma attacks in people with asthma who are allergic to mold.
Do not run the HVAC system if you know or suspect that it is contaminated with mold – it could spread mold throughout your home. If you have health concerns, consult a health professional before starting cleanup.
For more information, read the EPA's A Brief Guide to Mold, Moisture, and Your Home.
The above information is provided as a public service by the Environmental Protection Agency for educational purposes.
Helpful Article: Why is mold in my home dangerous?
For all your specialized cleaning needs, call (317) 713-6801 or contact Alpine Group's team of certified professionals.
Call Now
Alpine Group's owner Dave Adams was recently featured on a "FOX 59 Morning Show" segment called "Testing For Mold And Some Common Misconceptions Associated About It"
From FOX 59's Morning Show:
"…between Greencastle schools and hurricanes flooding cities. I am getting questions about mold and protecting yourself from it. I also know two home owners currently dealing with getting rid of mold from their homes. So today I am getting answers from an expert. Dave Adams is the owner of Alpine Group and has been in the mold remediation business for 25 years."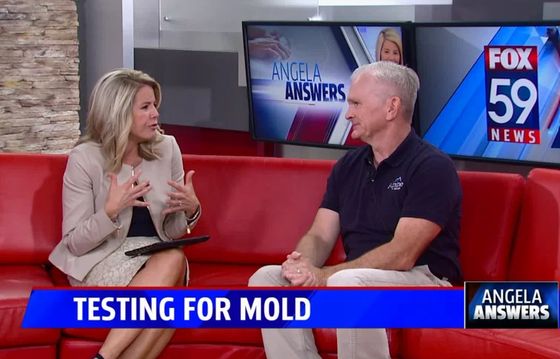 Below: "Before and After" Residential Mold Remediation/Removal by Alpine Group

Our Expertise Also Extends to Business: View "Before and After" Commercial Mold Remediation Services by Alpine Group