Attic & Crawl Space Insulation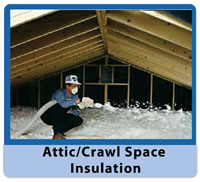 How Can Insulation Save You Money?
Upgrading insulation in your home is among the easiest ways to substantially save energy – and money on your monthly utility bill! Better insulation prevents air leaks that make your house harder to heat or cool.
Heating and cooling your home accounts for about 50 percent to 70 percent of the energy used in your home. Unless your home was built as an energy-efficient home, adding insulation will probably reduce your utility bills. Even a small amount of insulation–if properly installed–can reduce energy costs dramatically.
We offer:
Removal of old insulation
Blowing in new attic insulation (blown-in insulation reaches every corner!)
Attic insulation
Crawl space insulation
Insulation Removal Service
We remove old insulation contaminated by mold, water, or animals.

Attic insulation removal
Crawl space insulation removal.
Below: Before and After Alpine Insulation


Helpful Article: How Insulation Works
Helpful Article: What are "R-Values"?
To begin saving energy in your Indianapolis-area home today
,
contact us
or
call
(317) 713-6801
.